The Wilds of Western Idaho
Sitting atop the world at an elevation of 5,000 feet, McCall's rugged mountains, glacier-carved lakes, and ancient hot springs are a thrill-seeker's paradise. Here, each season brings distinct opportunities for Idaho adventures. From the action-packed to the serene, the lush landscape of our backyard calls to doers and dreamers, alike.
Click here to contact our concierge and get started on your next great adventure.
REEL 'EM IN
McCall offers many advantages to outdoor enthusiasts. Plentiful and uncrowded fishing is one of them. Here, novice and avid fishers can take home their very own fish tale with opportunities to catch cutthroat trout, Chinook salmon, steelhead, rainbow trout, smallmouth bass, Kokanee, crappie, yellow perch and more throughout our many rivers and lakes. With Payette Lake steps away and Louie Lake just 11 miles out, the best fishing is right at your fingertips. And to help you get started, our concierge will provide a list of the best spots for your group.
WITH OVER 200 LAKES WITHIN A 30-MILE RADIUS, THE FISHING IN McCALL IS EXCELLENT FOR BOTH BAIT AND FLY FISHING.
RAFT THE RAPIDS
Known as the Whitewater State, Idaho serves up countless opportunities to make a splash. Whether you're an expert rafter or new to the sport, you'll find plenty of exhilarating rapids on which to get some world-class whitewater right here in McCall. Salmon River offers rapids ranging from Class I for beginners, straight through the white-knuckle Class IV experiences. Meanwhile, Payette River turns it up with a renowned, 15-mile Class V run. Another excellent spot for runs ranging from Classes III – V, Snake River also boasts an incredible scenery as rafters wind through Hells Canyon's impressive rapids surrounded by jagged rock walls.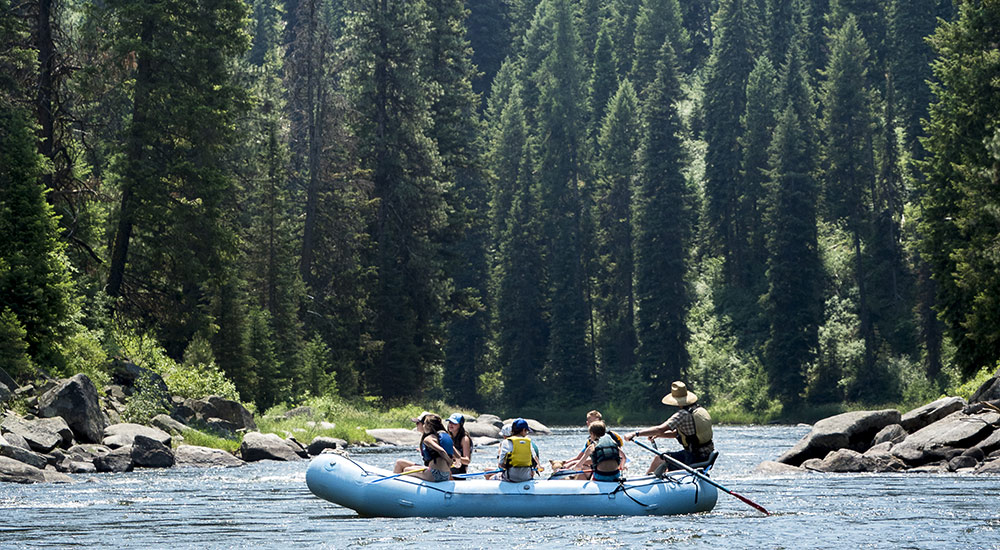 HELL'S CANYON IS THE DEEPEST GORGE IN NORTH AMERICA, WITH ONE OF THE RICHEST HUMAN HISTORIES IN IDAHO — ITS NO WONDER GHOST STORIES ARE OFTEN SHARED DURING RAFTING TOURS ON THESE RAPIDS.
GO FOR A GALLOP
What better way to channel the spirit of McCall than by taking in sweeping views of its ancient forests and soaring mountaintops on horseback? Saddle up and sightsee as you explore the wilds of Western Idaho on a guided tour that will take you through the backcountry. Keep an eye out for our natural neighbors such as elk, black bears, mountain goats, and mule deer.
HORSEBACK RIDING IS A POPULAR WAY TO TAKE IN THE SIGHTS WITH 32 SCENIC TRAILHEADS SPREADING ACROSS 1,500 MILES.
HIT THE SLOPES
Skiing in Spring? You bet! Snow sports have a long shelf life here in McCall. With Brundage Mountain as our neighbor, you have access to the Best Snow in Idaho™, and at Shore Lodge, we provide a shuttle service to get you there. But it's not all alpine and aerials. Enjoy backcountry skiing, snowmobiling to hot springs (more on that later), snowshoeing, sledding and more.
WE'RE FORTUNATE TO GET OVER 200 INCHES OF SNOW PER YEAR IN McCALL, WHICH MAKES FOR A SKI SEASON THAT STRETCHES FAR INTO SPRING.
HIT THE TRAILS
Once the great melt takes place, mud season begins! Best in the late spring, summer, and fall, you'll discover some of the best mountain biking trails the country has to offer, conveniently located just a short distance away. Our concierge can assist you in procuring your mountain bike rental to help you get started on your adventure.
MOUNTAIN BIKING IS A FAVORITE PASTIME HERE IN McCALL, AND WITH OVER SIXTY NEARBY TRAILS ITS EASY TO SEE WHY .
TAKE A HIKE
Here in McCall, hiking conditions are best in late spring, summer, and fall. Discover spring's blossoming foliage and melting creeks with hikes that range from easy to moderate and vary in length from one to six miles. Here's your chance to walk the walk.
WITH NAMES LIKE GOOSE CREEK FALLS AND HUM LAKE, WHAT'S NOT TO LIKE ABOUT THE AREA'S MANY HIKING TRAILS?
SOAK IT UP
Relax in nature's best remedy at one of Idaho's famous hot springs. Three hot springs are located within a 25-mile radius of Shore Lodge, including Burgdorf, Zim's and Gold Fork — each with their own unique qualities. And during the snow season, a snowmobile is one of the best — and coolest — ways to reach them.
IDAHO IS HOME TO 130 NATURAL HOT SPRINGS, WHICH RANGE IN AESTHETIC FROM RUSTIC TO MOUNTAIN MODERN.
DIVE IN
Swimming laps, a hot soak or a fierce game of Marco Polo are the ideal ways to spend a spring day, particularly when it's all taking place in our heated outdoor pool and hot tubs. And with our new seasonal pool bar, you won't have to go far to wet your whistle too!
THESE LOCAL "HOT SPOTS" PROVIDE ACCESS TO STUNNING VIEWS ANY TIME OF YEAR. IN FACT ITS NOT UNCOMMON TO CATCH A FELLOW SWIMMER SOAKING IT IN DURING THE SNOW SEASON.
GET  A GAME ON
Behind 2,000 gallons of Idaho's finest saltwater and tropical fish display, you can let your imagination run wild at The Tank, an analog game room bursting with classic board games, puzzles, a foosball table, giant connect-four and more!
CONVENIENTLY LOCATED ADJACENT TO THE CUTWATER ON PAYETTE LAKE AND ACROSS FROM THE THEATER, THE TANK IS A GREAT WAY TO SPEND TIME BEFORE CATCHING A MOVIE OR A BITE.
PONDEROSA STATE PARK
In the late spring, this expansive state park offers plenty of outdoor fun, including a group area for BBQs, picnic tables, beaches, biking and hiking trails, wildlife spotting, and nightly fireside programs (seasonal) at the amphitheater. In the snow season, the park transforms into miles of groomed cross-country and snowshoe trails, ranging in intensity from beginners to advanced.
LOCATED JUST UNDER 3 MILES FROM SHORE LODGE, PONDEROSA STATE PARK IS A SHORT BIKE RIDE (OR AN EVEN SHORTER DRIVE) AWAY.