The Wilds of
Western Idaho
Sitting atop the world at an elevation of 5,000 feet, McCall's rugged mountains, glacier-carved lakes, and ancient hot springs are a thrill-seeker's paradise.
Here, each season brings distinct opportunities for Idaho adventures. From the action-packed to the serene, the lush landscape of our backyard calls to doers and dreamers, alike. Click here to contact our concierge and get started on your next great adventure.
GO OFF ROAD
The only thing better than taking in the backcountry sights of McCall is heading out into them! For this particular pursuit, we're fond of ATVs. Head off-road and explore the wilds of Western Idaho with trails and routes suitable for riders and drivers of every skill level. Families trekking out into the historic backcountry, hardcore riders in search of the next big thrill, or wanderers seeking a path to the likes of Burgdorf Hot Springs or Kimberly Mines will find a specific allure in the rugged mountains of McCall.
THERE ARE HUNDREDS OF ATV FRIENDLY TRAILS IN McCALL, WITH FALL CREEK SADDLE AND TEAPOT MOUNTAIN BEING TWO OF THE CLOSEST.
RAFT THE RAPIDS
Known as the Whitewater State, Idaho serves up countless opportunities to make a splash. Whether you're an expert rafter or new to the sport, you'll find plenty of exhilarating rapids on which to get some world-class whitewater right here in McCall. Salmon River offers rapids ranging from Class I for beginners, straight through the white-knuckle Class IV experiences. Meanwhile, Payette River turns it up with a renowned, 15-mile Class V run. Another excellent spot for runs ranging from Classes III – V, Snake River also boasts an incredible scenery as rafters wind through Hells Canyon's impressive rapids surrounded by jagged rock walls.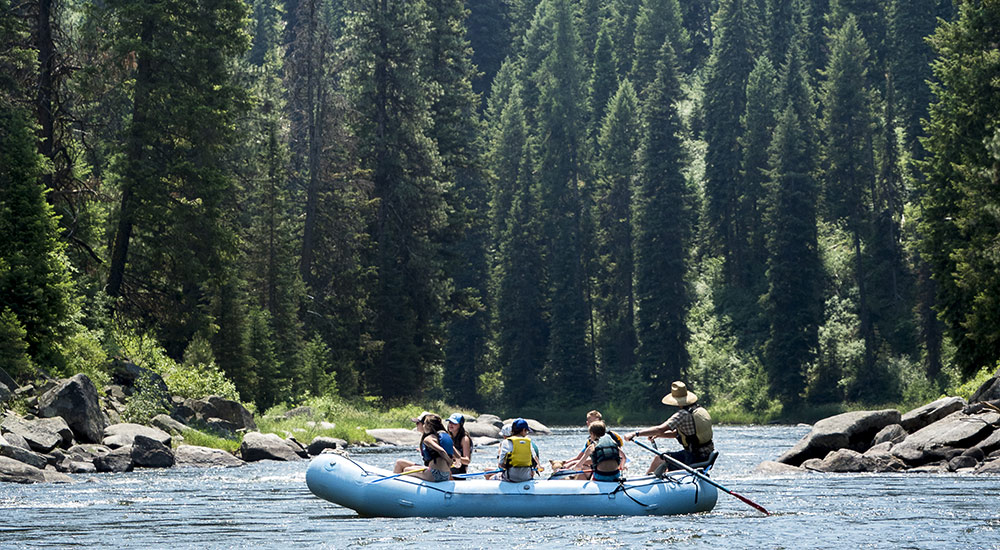 JUST AS IMPORTANT AS SELECTING WHERE TO RAFT, IS FIGURING OUT WHEN TO DO SO. THRILL-SEEKERS WILL FIND THE MOST EXCITING RAPIDS IN LATE MAY/EARLY JUNE, WHILE FAMILIES AND NOVICES WILL FIND MORE WELCOMING WATERS JULY THROUGH SEPTEMBER.
GO FOR A CLIMB
Elevation enthusiasts can get even higher than McCall's 5,000 feet with several spectacular climbing opportunities. Mountaineering in McCall delivers breathtaking views of our lush landscape and abundant wildlife in a serene setting. Climbers visiting Payette National Forest can encounter elk, deer, moose, and even rare bald eagles. Another popular climbing spot, Hells Canyon offers over 400 routes ranging from 5.7 to 5.13+ and 40 to 300 feet long. Recreational climbers will find countless exciting opportunities right here in McCall.
THE BEST CLIMBING SEASON IN McCALL IS MAY THROUGH LATE SEPTEMBER. THIS IS WHEN THE CLIMATE AND POTENTIAL FOR NEW ROUTES ARE AT THEIR BEST.
TAKE A SWING
Summers in McCall were meant to be spent outdoors. And one of the best places to take in the season in all its glory is Whitetail Club's award-winning golf course. As a guest of Shore Lodge, you have exclusive access to this private course, which offers 18 holes and 7,200 yards of unspoiled natural splendor. Play amongst centuries old Ponderosa Pines, trout-filled ponds, and powerful granite boulders as you attempt to master the 72-par course. Be sure to end the day at the famed Golf Grille for delicious food and drink.
WHITETAIL CLUB WAS ADDED TO GOLF DIGEST'S "AMERICA'S 100 GREATEST" COURSE LIST AND GOLFWEEK'S "BEST RESORT COURSES 2014."
MAKE A SPLASH
5,330-acres of pristine glacial water at an elevation of 5,000 feet provides the backdrop for endless pursuits throughout the long summer days. Explore on our standup paddleboards and kayaks. For those in search of larger vessels, take a lake tour on our Manitou pontoon boat. Mooring is also available for private watercraft.
THOSE PREFERRING TO SPEND THEIR TIME ADMIRING PAYETTE LAKE RATHER THAN NAVIGATING IT CAN ENJOY ONE OF OUR GUIDED ADVENTURES.
GO FOR A SPIN
Summer is the perfect season to take a leisurely ride through the great McCall outdoors. For those of you who enjoy a little more edge to your biking, may we suggest you get out on some of the best mountain biking trails the country has to offer? Our concierge can assist you in procuring your mountain bike rental to help you get started on your adventure.
WHETHER YOU PREFER A SCENIC RIDE THROUGH DOWNTOWN McCALL OR EXPLORING THE BIKING TRAILS AVAILABLE NEARBY, THE CONCIERGE CAN ASSIST YOU IN PROCURING YOUR MOUNTAIN BIKE RENTAL TO HELP YOU GET STARTED ON YOUR ADVENTURE.
TAKE A HIKE
With over 500 hiking and mountain biking trails in McCall ranging from easy to moderate and varying in length from one to six miles, there are plenty of opportunities to walk the walk. And the long days of summer provide the perfect time to head out on those longer adventures in Payette National Forest or the Frank Church Wilderness.
WITH NAMES LIKE GOOSE CREEK FALLS AND HUM LAKE, WHAT'S NOT TO LIKE ABOUT THE AREA'S MANY HIKING TRAILS?
SOAK IT UP
Relax in nature's best remedy at one of Idaho's famous hot springs. Three hot springs are located within a 25-mile radius of Shore Lodge, including Burgdorf, Zim's and Gold Fork — each with their own unique qualities. And during the snow season, a snowmobile is one of the best — and coolest — ways to reach them.
IDAHO IS HOME TO 130 NATURAL HOT SPRINGS, WHICH RANGE IN AESTHETIC FROM RUSTIC TO MOUNTAIN MODERN.
DIVE IN
Marco Polo & margaritas. Cannonballs & cosmos. A swim & a scotch. The new pool bar at Shore Lodge means that you can enjoy our year-round heated pools and hot tubs without having to go far to wet your whistle too!
THESE LOCAL "HOT SPOTS" PROVIDE ACCESS TO STUNNING VIEWS ANY TIME OF YEAR.
PONDEROSA STATE PARK
Enjoy the full lineup of summer offerings that this expansive peninsula has to offer, including guided walks, a group area for BBQs, picnic tables, beaches, biking and hiking trails, abundant huckleberries (a true McCall treasure!), wildlife spotting, and nightly fireside programs at the amphitheater (seasonal).
LOCATED JUST UNDER 3 MILES FROM SHORE LODGE, PONDEROSA STATE PARK IS A SHORT BIKE RIDE (OR AN EVEN SHORTER DRIVE) AWAY.